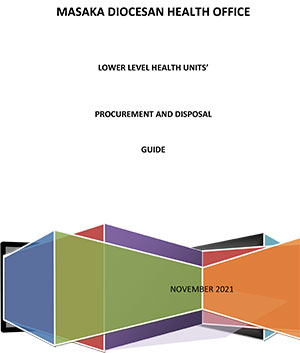 This Guide has been prepared after sighting numerous and persistent procurement and disposal deficiencies in many of our Health Centres.
In today's fast-paced operational environment, the importance of the procurement function in maximizing benefits out of the apparently limited resources, cannot be overlooked.
Similarly, what was seen as just a purchasing function, procurement-is now a topical issue that is not only key in ensuring smooth operations, but also crucial in improving the Health Units' bottom line.
In fact many are beginning to approve that the role of the procurement function belongs at a senior level. A reason, it is considered the main responsibility of the most senior person(s) in an entity.
This is why the In-Charges (of the HCs) are considered the chief accounting officers for all procurements.
Also many entities are now shifting from a decentralized to centralized structure where all procurements go through one central section.
Besides allowing more comprehensive control and optimization of inventory / stock, centralization avoids duplication or redundancy of efforts which means lower costs and standardized processes.
Otherwise, good procurement no longer just picks the cheapest item, but chooses a product/service that can demonstrate the best value across its entire life cycle.
So, best value in the health context can among others, mean that a product/service produces better clinical outcomes, lasts longer, or is of better quality.
We are hopeful that this manual will guide all staff members involved in the various procurement and disposal actions conducted in the Lower Level Health Units of Masaka Diocese.