Haide Helmut Health Center
Health Centre III, Bbaala-Masaka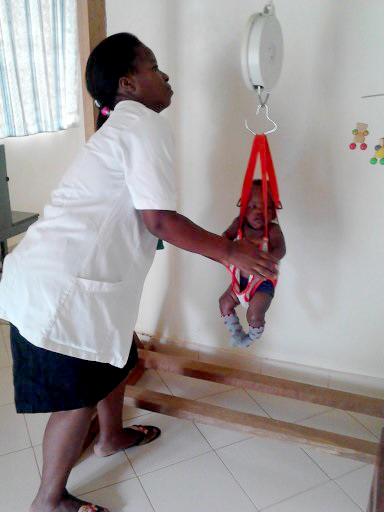 This health center is private not profit health center (PNFP) under Masaka Diocese located in VillaMaria parish, Bbaala. It was started under the support of people of good will from German (REMSCHEID) who wished to help orphans and needy children under the slogan "Our Children and Our Future" get access to medical care. The children included children from St. Francis Bbaala and surrounding villages. It now serves both the young and old, men and women.
The unit was officially opened on 22/01/2011. Since then it has served all people from all walks of life. It started with 4 health workers, to date it has more than seven.
It is located at Bbaala subparish in Villamaria Parish in Masaka Diocese
VISION OF THE HEALTH UNIT
To build a health Community
MOTTO OF THE HEALTH UNIT
United we stand to care for sick
OBJECTIVES OF THE HEALTH UNIT
To bring health services nearer to the people and promote health to the surrounding community.
To identify common treatable problems among the community.
Support poor families who cannot afford to go the hospitals.
To prevent maternal and childhood mortality.
OWNERSHIP OF THE HEALTH UNIT
The unit is owned by Masaka Diocese, supervised by the Diocesan Health Office and Managed by Bbaala Sub Parish.
CATCHMENT AREA OF THE HEALTH UNIT
The health unit serves around seven villages among them are Bbaala, Kamukongo A, Kamukongo B, Kakunyu, Bweyo, Kagasa , Kibisi, Kago, Kawule, Kitamba etc.
THE HEALTH UNIT MANAGEMENT COMMITTEE 2021
| | | |
| --- | --- | --- |
| Mr. Kasagga  Vincent | Chairperson | 0752868805 |
| Mr.  Ndawula Charles | Vice Chairperson | 0752559437 |
| Mrs. Musoke Maria Gorreti | Administrator | 0702185992 |
| Miss Nalugo Sylivia | Secretary/In-charge | 0753163980 |
| Mr. Sserwadda Lawrence | Treasurer | 0772333296 |
| Mrs. Juuko Heelen | Woman Representative | 0754816522 |
| Mr. Kasagga Ceaser | Youth Representative | 0751009270 |
| Mr. Juuko George William | Community Representative(LC 1 Chairperson) | 0752544109 |
| Mrs. Ddaaki  Mauricia | Foundation Body Representative(Catechist) | 0757692205 |
Services given at the health unit include
OPD services
Maternity services
ANC services
Immunization / PNC services
In-patient services
Laboratory services
HCT services
Natural family planning