Ssunga St Cabana
Health Centre III, Masaka
BRIEF HISTORY AND BACKGROUND.
Archbishop Louise Joseph Cabana -Ssunga Health centre III was founded and managed by the sisters of the Immaculate heart of Mary Reparatrix ( known as Ggogonya sisters) in 1985. It is a private not for profit unit (PNFP) under Masaka Diocese supervised by Masaka Diocesan Health Coordinator.
Initially it was a dispensary; offering outpatient service only, there after other services were put in place ie Laboratory, immunization, maternity etc.
The Health Facility was established with following Mission and Vision.
VISION: To be the leading provider of high quality and sustainable health services in Masaka district.
MISSION: To excel in Christ's healing ministry for the well-being of all categories of people.
OUR CORE VALUES
God Fearing
High respect of Human Life
Transparency and accountability
Non discrimination
Client Centered
Mutual Respect and Team work.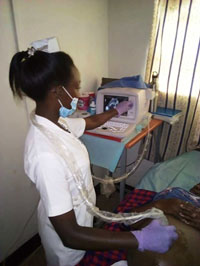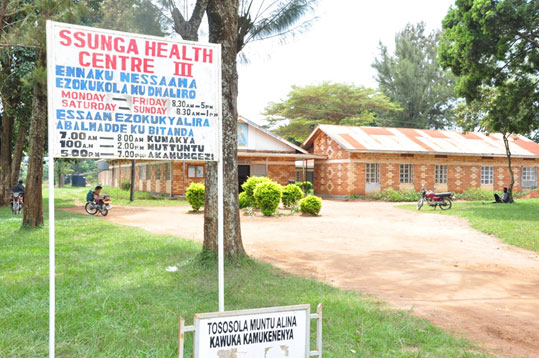 GEOGRAPHICAL LOCATION
Ssunga Health Centre III is located at Ssunga village, Bukkakata -subcounty, Masaka district along the main road connecting Masaka to Kalangala district, Bukoto East constituency. It's approximately 20 kilometers from Masaka Town to the facility.
CATCHMENT AREA
Currently the facility has a population of 6,785 people. It serves 3 parishes and 15 villages as listed below.
1) SSUNGA PARISH:
Bukaayi A and B
Kisaaka A and B
Kigo
Bbaale
Birinzi
Nakigga
2) KATWADDE PARISH:
Kasaala
Kasaana
Manywa
Luvule
Njumaga
Kayugi
3) BUKIBONGA PARISH:
The Health Unity is governed by the following management committee (HUMC) with their Responsibilities.
| | | |
| --- | --- | --- |
| NO | NAMES | RESPONSIBILITIES |
| 1 | Rev.Sr.M.Cssy Najjingo | Chairperson |
| 2 | Rev.Sr. M. Josephine Nakiberu | I.H.M.R Representative |
| 3 | Rev.Fr.Joseph Kamoga | Parish Priest( Luvule Parish) |
| 4 | Rev. Fr. Emmanuel Katabaazi | Diocesan Health Co-ordinator |
| 5 | Dr. Joseph Lule | Technical Adviser |
| 6 | Mr. Mukasa Ssentamu Mathew | Financial Adviser |
| 7 | Rev Sr. M.Mangdalene Nalubega | In-charge |
| 8 | Rev.Sr.M. Immaculate Namujju | Staff Representative |
| 9 | Mr. Batte John | LC.1 Representative |
| 10 | Mrs. Katende Racheal | Women Representative |
The facility renders preventive, curative and rehabilitative measures to all people. It works 24 hours and services include:
Out-patient services
In- patient services
Laboratory services
Maternity health care service (Antenatal and postnatal).
Ultra sound scan service
Childhood health care.(immunization service)
ART clinic service (Antiretroviral services).
Natural family planning service.
Free Hiv counseling and test service
Ambulance service.
THE HEALTH TEAM.
The Health Centre is currently managed by REV SR. M. MAGDALENE NALUBEGA ( In-charge ), 12 medical staffs and 4 support staffs
Clinical Officer 1
Senior Nursing Officer 1
Nursing Officer 1
Enrolled midwives 2
Enrolled comprehensive nurse 1
Enrolled Nurses 2
Laboratory Assistant 1
Records Assistant 1
Cashier 1
Assistant Accountant 1
PARTNERS
The partnerships have played a very big role to supplement the needs of the facility ie- Offering on-site trainings to staffs, provide us with drugs and sundries plus some medical equipment, initiating some income generating projects, etc
These are some of our partners
Uganda Catholic Medical Bureau.
Joint Medical Store.
Rakai Health Science Project.(RHSP)
Life Net International.
Marathon Uganda.
Micro-Finance Project.(Safe Birth)
Medical Access Uganda.