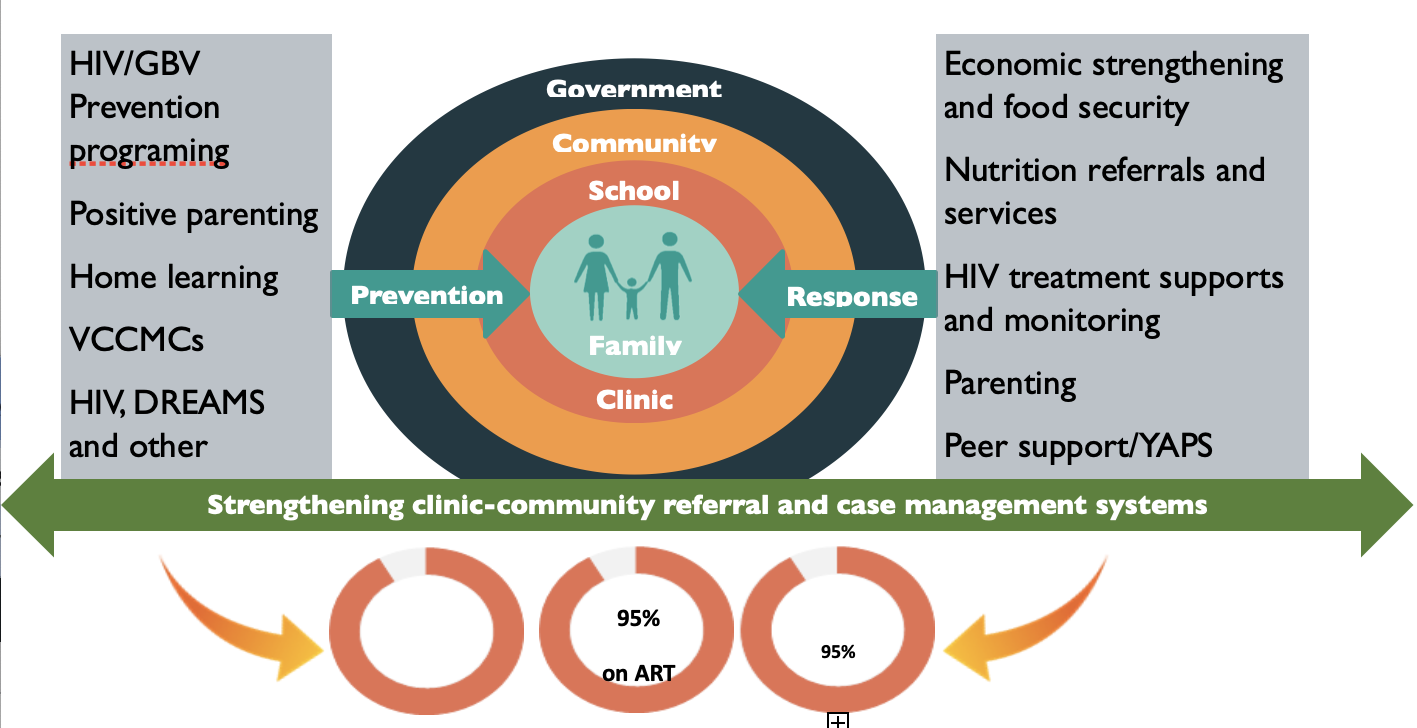 USAID ICYD ACTIVITY IN MASAKA REGION
The ICYD Activity is a 5-year USAID project   awarded to the Education Development Centre (EDC) as Prime partner together with other consortium partners that include; World Education Inc./Bantwana Arizona State University, Resonance, Red Earth Education and School to School International with 6 Primary Local Partners (PLP) that include; Masaka Diocesan Medical Services (MDMS), Mildmay, ROM, UWESO, IDI, ACCORD and Youth Alive. MDMS is mandated to implement this project in the seven districts of Great Masaka that is Masaka, Bukomansimbi, Kalangal, Lyantonde, Lwengo, Kalunu and Mpigi.
PROJECT GOAL AND OBJECTIVE
Goal: To ensure that children and youth, especially the most vulnerable, receive the support and services necessary to live, resilient, healthy and productive lives
Objective 1: Children and youth have improved learning outcomes;
Objective 2: Children and youth are protected, safe, and healthy in their homes, communities, and learning environments; 
Objective 3: Youth practice positive behaviours and make informed decisions about their lives and relationships 
ICYD OVC Approach and Implementation Framework
The ICYD OVC program aims to support epidemic control and build resilient families
Healthy, Safe, Stable, and Schooled: OVC packages are tailored to address HIV treatment outcomes and build economic and social resilience and stability towards 'graduation'.
The clinic partnership is essential to our work: there is no OVC program without clinic partners. Clinics (TX CURR) is the entry point for enrollment onto the ICYD OVC program
ICYD caseload is primarily made up of: C/ALHIV, HEI and young mothers living with HIV, children of HIV positive caregivers, children of female sex workers, teen mothers, sexual abuse survivors
Y2 coverage and targets: 7 districts with 29,200 OVC and caregivers to serve from 9733 households.
Goal of HIV Care &Treatment
The ultimate Goal of HIV care and treatment/ART is to;
Suppress viral load to undetectable levels…..Achieve VL Suppression
Reduce transmission of HIV-Undetectable=Untransmittable (U=U)
Improved Quality of life
Key Messages
Good adherence to ART is key for sustained HIV viral suppression,

Conversely, poor adherence is the major cause of ART treatment failure
Psychosocial care and support; is critical to enhance adherence, retention and viral suppression
Viral Load Monitoring is conducted to; monitor response to ART and to confirm ART treatment failure hence timely switching to an appropriate regimen.
Achieving VL suppression among enrolled C/ALHI largely depends on: stronger collaborations with clinical partners and ART clinics as well as setting up a coherent facility-community referral pathways.